Detail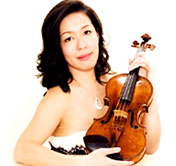 Violin: Eriko Sumi

Eriko Sumi is the grandchild of a great teacher, Saburo Sumi. She learned to play the violin from her grandfather and her parents. She moved to America in 1989 and studied with Dorothy Delay at Juilliard School. She graduated 1998. Then she studied with Eduard Wulfson, director of the Stradivari Society whose knowledge was influenced by great violinists of the 20th century such as Nathan Milstein, Yehudi Menuhin and Henryk Szeryng.
Currently based in Japan and Italy. She performes with first-class national and international orchestras. She also appears as a recitalist or chamber musician. She judges the Michelangelo Abbado International Music Competition for violinists, of which she has been a first prize winner.
She played with the Orchestra Accademia della Opere the Paganini Concert No.1 at Milan Conservatory's Verdi Hall. She also received "the Torretta Award" (Premio Nazionale La Torretta), an award traditionally presented by the Italian Government.
In 2011, Eriko was commissioned "Tottori Furusato Ambassador" by Tottori Prefecture. She played with the Hungarian Virtuosi Chamber Orchestra at the Hungarian Parliament in Budapest, the first Japanese person to perform there.
Her first CD was released from Euros Label. Also "Appassionato Violin" and "Violin Partita No.2 in d minor violin recital 2006 at Kioi Hall" are released from Office Amici.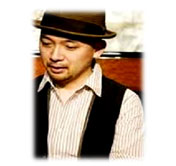 Piano: Kenji Kanemasu

Kenji Kanemasu studied music composition at Tokyo National University of Arts and Music.
He has been working on playing, composing and arranging classic and tango music mainly; he also works on pop music. His music is not influenced by any music genres.
Kenji planed and performed the event "Pipe organ +Bandoneon" in 2005, and the "New Year Fresh Concert" 2007 at Narashino Cultural Hall in Chiba. His music note book "Play Studio Ghibli music with jazz arrangement" was published by YAMAHA Music Media.
Recently he has been working with a tenor Tsutomu Aragaki as an accompanist.